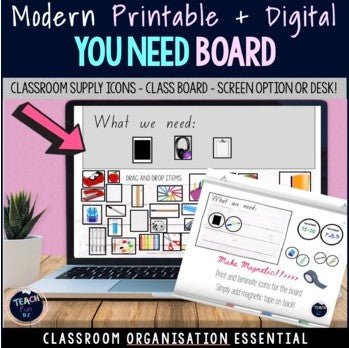 You Need Board Classroom Supply Cards Icons - Digital and Print Modern Designs
Save

$0.00
Save

$-4.73
Original price
$4.73
-
Original price
$4.73
If you are looking for a comprehensive quality set of modern classroom supply icons or cards that you can use over and over again as a whole class visual cue instructional system or as a personal desk chart to help students become more independent and organised, this complete bundle of 43 pages will be a HUGE TIME-SAVER for you!
STOP REPEATING YOURSELF over and over all day long. Now students can easily refer back to the board to see what they need for each lesson if they missed the verbal cue or need extra time to sort themselves out and forget what they need.
CLICK TO SEE FULL PREVIEW VIDEO RIGHT HERE BEFORE PURCHASING
PRINTABLE PHYSICAL OPTION: Includes BONUS subject book icon cards to write on wipe off the required book title when laminated to display! Also, page number cards to write and change with whiteboard marker, what pages of workbooks or reading books are required for the lesson. Popular reference tool for school classrooms as well as Home Schooling. Simply print at main size (2 icon cards per a4 size for board display) or smaller size for personal student use at their desks or in groups, cut circles out, laminate and cut out cards. If you wish, you could enlarge the 'You Need' blank board up to A3 or poster size for easy whole class viewing. Attach to whiteboard with blu tack/ adhesive removable gum or small magnets or magnetic tape to the back of cards to display on magnetic whiteboard. Students thrive on explicit visual cues and knowing what is coming up. It is also helpful for you, rather than having to write a list of what students need for each lesson or make your own pictures! Easily change around as needed. Keep regular items that you used most days in a prominent place, then just change up the others to suit. Students enjoy helping with this task too.
PREFER DIGITAL? We hear you! There are digital ready slides included near the end of the slides for you to use on Powerpoint and project up onto your big screen direct from your laptop or desktop computer. SIMPLY DRAG AND DROP on same slide! (alternatively you can cut and paste or copy and paste to position supplies icons on the board if on 2 separate slides). We recommend keeping your favourites on the main slide and maybe moving ones you don't use often or at all, to another slide if wanting the space to be less cluttered.
RECOMMENDATIONS - To use solely as a digital board, you can save the Powerpoint slideshow as a MASTER COPY, then save as an additional copy before choosing the additional one to delete any of the physical icon slides and just leave up the digital drag and drop ones, then save as DIGITAL BOARD COPY so you don't need to scroll through everything each time. Alternately you could move the slides you use digitally up to the top of the slideshow for ease of access.

-Terms of Use and Copyright Information Included
- Powerpoint files created on Powerpoint Mac in pptx file - will be available after purchase for download as a ZIP file (compressed file). You must have access to software to unzip this file on your device.
- print in colour on A4 or reduce size in printer settings to use for smaller desk version and laminate for best use and longevity to use over and over and over!
68 icon cards (2 per page)
Teacher Instructions
Digital Slides with Drag and Drop feature
6 x options for the Whole Class Physical Board to be enlarged to A3 or poster size
Ready to laminate and reuse over and over again
Ready to write on, wipe off - book titles and page numbers for work
Simple, clear coloured realistic images to use as visual cues headings
Modern design and not too 'cutesy', so that this set can be used for younger and older students, as well as anyone of any age including adult students with additional needs to help them become more independent and organised
Great for mainstream classrooms, learning support, diverse languages, diverse needs, homeschooling, students with behavioural support.
Includes blank icon cards

 

also to create your own
can be effective for all students but especially beneficial for students with special needs, visually impaired, behavioural needs, students needing additional prompts, short term goals, routine to stay on track and incentive to complete tasks.)
CLASSROOM SUPPLY ICONS

 

included are:
felt pens
blue pen
clipboard
crayons
scissors
eraser
black fine tip pen
craft glue
glue stick
grid paper
hat
highlighter marker set
ipad/device
permanent/dry erase marker
blue highlighter marker
red pen
notepaper and pencil
workbook
12 x subject books (with space to write subject headings on)
reading books
calculator
glue stick
paint and brushes
folders
paintbrush
scrap paper
lined paper
pen
lead pencil (green)
lead pencil (yellow)
pencil case with supplies
coloured pencils
wooden ruler #1
plastic ruler
wooden ruler #2
notebook
purple scissors
stapler
sticky tape
dough tubs
unifix cubes / blocks
headphones
dice
blank cards to make your own
All items in my store have been created by an Australian Teacher/Designer. Grammar, spelling, vocabulary, money and other items all reflect this unless otherwise stated in the individual product. Some products I do try to include multiple spelling options if there are common differences e.g. color and colour or behaviour and behavior. If there is a specific requirement you have, please feel free to get in contact via email with your request to: teachfunoz@outlook.com
THIS RESOURCE IS FOR SINGLE LICENSE USE ONLY, UNLESS MULTIPLE LICENSES ARE PURCHASED. PLEASE RESPECT COPYRIGHT LAWS AND DO NOT SHARE WITH COLLEAGUES OR FRIENDS... BUT PLEASE DO SHARE MY STORE LINK SO THEY TOO CAN ENJOY THESE PRODUCTS AND MORE. TEACH FUN OZ PRODUCTS ARE NOT PERMITTED TO BE USED FOR ANY FINANCIAL GAIN BY THE PURCHASER OR OTHERWISE. YOU MAY USE THESE RESOURCES FOR YOUR OWN PERSONAL CLASSES BUT CANNOT COPY, DUPLICATE OR SHARE THEM DIRECTLY WITH OTHERS, THROUGH SHARED DRIVES OR ONLINE SITES THAT CAN BE ACCESSED BY OTHERS.
You can follow this store page by clicking up top of the screen.  on our store to earn rewards points that you can redeem on tpt products! It also helps us and other educators hoping to find awesome products for their classrooms too.
VISIBLE LEARNING - VERBAL CUES - WHAT YOU NEED - SUPPLY LABELS - CLASSROOM SUPPLY ICONS - WHAT WE NEED BOARD - VISUAL TIMETABLE - CLASSROOM ORGANISATION CHART