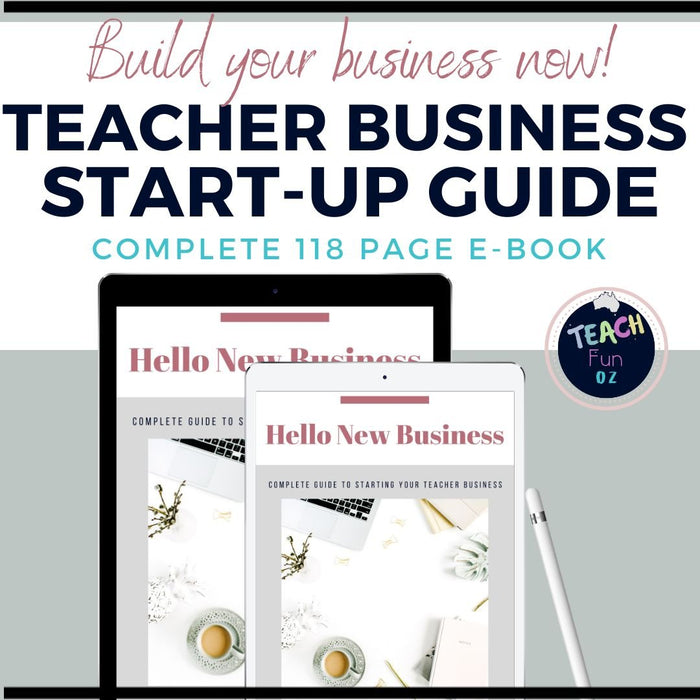 Hello New Business - Complete Start Up Guide For Your New Teacher Business
Save

$0.00
Save

$-13.11
Original price
$13.11
-
Original price
$13.11
Tpt Seller Guide- Complete Start Up Guide For Your New Teacher Business.
Are you looking into how to use your teacher training and experience from the 'teaching' world and transfer those skills to another career or side-hustle? Many teachers and educators make successful business owners (often affectionately termed as 'Edupreneurs' or 'Teacherpreneurs') because they already possess many skills and experiences that suit running their own business.
Wondering how to start a teacher business? Side hustle, part-time, lifestyle biz or full-time career - you could start on your new business journey today! What is a TPT store? Wondering how can I create and sell my own teacher resources to help other educators around the World?
Curious to find out about selling, creating, marketing, data, business logistics, productivity, branding, data and tracking and so much more? 'Hello New Business' is the ultimate step by step guide for anyone new to running a teacher business, new to selling or has recently started set up their teacher business in the last year or two and is still in initial stages of business growth, wanting to amp up their success over multiple platforms. View video preview for a snapshot of this massive 118 page digital download e-book ready to view on your device or print at home and read at your leisure. 
Everything you will need to know to get your new teacher business started this weekend! Plus all the hot tips for business stages to come from an experienced business owner and teacher. This is the first in our series. Stay tuned for general business edition also.
Download is a PDF file type to be downloaded to your device. NO physical product is provided with purchase, only digital format. You  may download and print a hard copy for yourself if you wish.

118 page e-book authored by an experienced multi-business owner, founder and educator
Complete guide to get your started on many platforms
Easy to follow step by step instructions and tips on all areas to speed up your path to success! 
Visual examples
What is a teacher business?
Business types and structures
Choosing your products/services
Naming and organisation
Branding profile and avatar
Your store
The creation process (my 8 step process)
Marketing
Data and tracking progress
Goals and continuous improvement
Where to from here?
Just get started, the rest will follow...
Inspirational quotes
Discounts and links to tools and sites to help you in your business
This ebook offers invaluable information from experiences and learnings over a decade in running businesses and 20 years in education.
Learn how to start your new teacher business in a weekend! #yougotthis
See video preview and preview images.