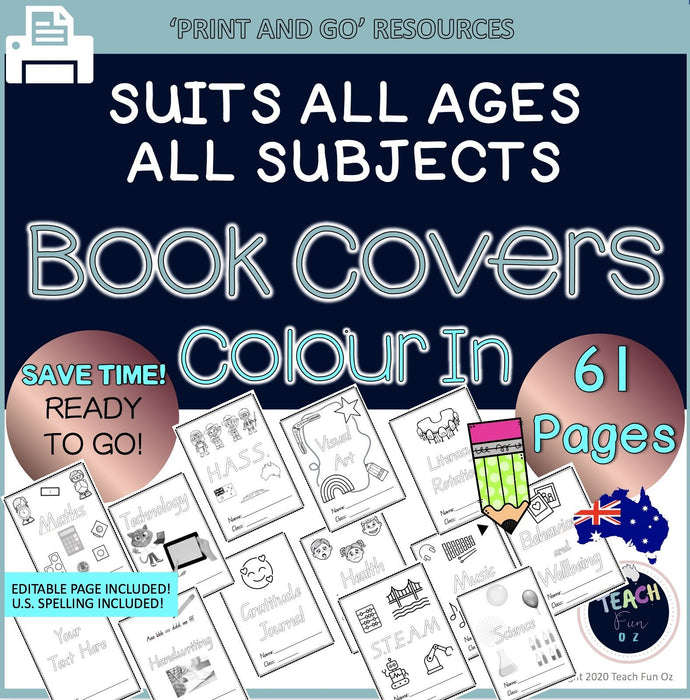 Subject Book Covers Title Pages Primary Colour In Australian Subjects 61 pages
Save

$0.00
Save

$-2.96
Original price
$2.96
-
Original price
$2.96
QLD FONT - SUBJECT BOOK COVERS TITLE PAGES SUITS PRIMARY SCHOOL - COLOUR IN AUSTRALIAN SUBJECTS A4 SHEETS - 61 PAGE OPTIONS INCLUDING 1 X EDIT YOUR OWN.
❤ Ready to print, nice and clear to colour in. 61 Blackline Master Printables. Get your classroom ready for Back to School no matter what year level you have this year. Printables to suit all ages. Your students will be excited to organise their new workbooks in readiness for the year ahead. They can add colour and creativity to personalise their book covers or use as a title page to glue inside their book or as a display folder cover page. Makes a great First Week back at School activity or home work task to ease into things.
https://www.teacherspayteachers.com/Product/High-School-Middle-School-Subject-Book-Covers-Title-Cover-Pages-72pg-Australian-6442779
PRIMARY BOOK COVER SET INCLUDES THESE SUBJECT TITLES:
Maths
Maths Rotations
Math
H.A.S.S. (Humanities and Social Sciences)
Art
Visual Art
Science
Health
Writing
English
Handwriting
Spelling
Word Work
Phonics
Grammar
Reading Activities
Literacy Rotations (lower grades option image)
Literacy Rotations (upper primary option image)
Maths Rotations
Maths Mentals
L.O.T.E. (Languages Other Than English)
Language
Literacy
Business
Technology
Physical Education
Sport
Fast Finishers
Music
The Arts
Media
Drama
Christian Studies
Religion
History
Geography
Mapping
Number
Measurement and Time
Chance and Data, Probability
Social Studies
Daily 5
Homework
Daily Check Ins
Journal
Gratitude Journal
Draft Writing
Digi Tech
S.T.E.M. (Science Technology Engineering and Maths)
S.T.E.A.M. (Science Technology Engineering and Maths)
Positive Behaviour Learning
Positive Behavior Learning (U.S. Spelling of behavior)
Life Skills
Behaviour and Wellbeing
Behavior and Wellbeing (U.S. Spelling of behavior)
All About Me (with boxes for students to complete small drawings inside of to personalise their cover)
Our Class
My Goals This Year 20__
Unit Book Term __
Assessment
Your Text Here ... (editable page option to customise to suit your needs)
PRINT - COPY - COLOUR AND GLUE INTO BOOKS OR SLIP INTO FOLDERS.
Modern images that appeal to most Primary School students. Different Title options to suit different subjects. Great activity for art lessons, homework or mindfulness colouring during first week back at school. Teach younger students to stay within the clear lines. Settle and calm students while colouring. Use as a back up fast finisher activity or relief teacher activity. Teach students good presentation and start off their books with pride and creativity in their favourite colours.
***Includes Australian spelling and U.S. spelling
***Includes editable page at the end of the document to input your own choice of title if not already included in this pack.
THIS CLASSROOM ORGANISATION POST PACK INCLUDES: >> 1 x Terms of Use and Copyright Information >> 1 x Powerpoint file created on Powerpoint Mac in pptx file >> print in black and white on A4 to be coloured in by the students themselves OR print onto coloured paper if you do not wish for them to colour them all in.