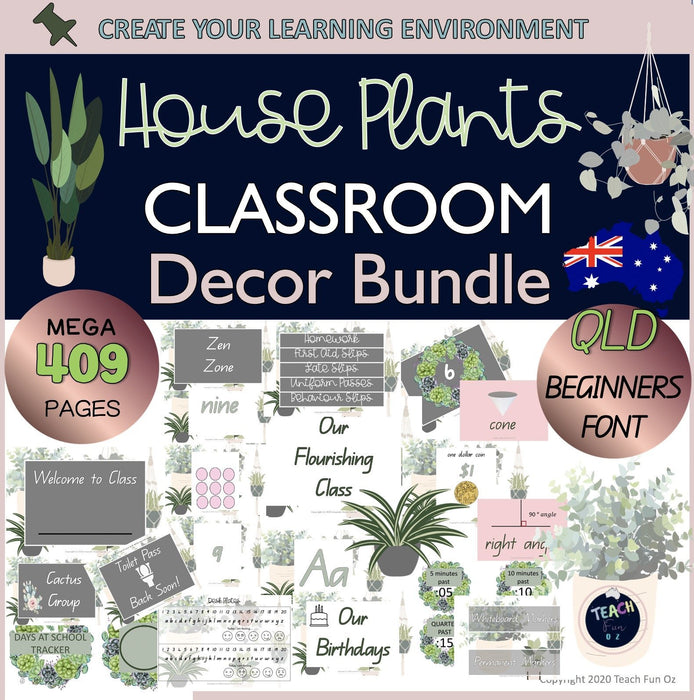 QLD Font House Plants Theme Classroom Decor Bundle All Ages Indoor Plant
Save

$10.55
Save

$10.55
Original price
$29.57
-
Original price
$29.57
HOUSE PLANTS / INDOOR PLANTS
CLASSROOM DECOR BUNDLE to get your classroom ready for Back to School no matter what year level you have this year. Posters Charts and Printables to suit all ages.
of high quality printables, charts, posters, desk labels, tray labels, signs, lanyard tags and so much more will have you organised and EXCITED about the year ahead. With this GREAT VALUE bundle, you'll have just about everything you'll need! Check out the video and list below to see ALL that is included as we can't fit it all on the preview images as there is just SO MUCH!

With modern, fresh, natural colour tones of pinks, greens and grey, your classroom is sure to stand out with its calming nurturing feel for anyone who enters your room. A breath of fresh air from the regular poster and label sets that everyone seems to have. This set will be unique to yours and with so many extra classroom tools included to help you run your classroom in an organised way and be more productive. Your students will really appreciate the learning space you create for them too!
CLICK TO SEE FULL PREVIEW VIDEO RIGHT HERE BEFORE PURCHASING
MEGA BUNDLE INCLUDES:
Qld Beginners Font for student and classroom items + decorative font for teacher desk items.
Downloadable ZIP file - please ensure your device is capable of unzipping large files.

>> 1 x Terms of Use and Copyright Information
>> 1 x Powerpoint file created on Powerpoint Mac in pptx file
>> 1 x PDF version (409 pages total)
>> It is recommended for best use, use in Powerpoint file as created, however PDF is also included for those who require this.
>>
Teacher Desk Tray Labels (slim style drawers) in decorative font for teacher
Room Labels and Stationery Supply Labels
(in School Font for Students)
Room Organisation and Subject Posters
Themed Group List Posters
Vocabulary Cards – objects, Maths, days, months, year for calendar, numbers, letters, seasons, probability terms, 2D shapes, 3D shapes, angles,
Australian Currency
Positive Classroom Charts – Great Wall of Gratitude, Kindness, Amazing Work, Bucket Fillers, Leaders and more to choose from.
Learning Intentions, I need to show, I need to do, How we are assessed
Weekly Topics, This Week's Focus, Goals
Subject Area Charts
Welcome to Our Flourishing Class Poster and fillable name cactus spots (OPTION 1)
Our Lush Class - 'We just keep growing and growing' and fillable name house plant cut outs (OPTION 2)
A-Z Alphabet posters in upper and lower case - in State font selected in this listing
Class Management Team Job Labels - separate sets to suit lower and upper primary school ageslhjkjb
Class Rules or Expectations and Rewards
School Rules and Behaviour Flow Chart
Editable text blank labels and poster template
Desk Signs & Lanyard Tags for Toilet Passes, First Aid, Emergency Medical Assist, Behaviour Emergency Assist, Library Passes, Computer Lab Passes, Early Home Passes, Absent Today, Messenger Passes
Today's Completion List and This Week's Completion List
Personal 'I need to complete' Checklist
Our Birthdays + fillable Monthly Charts
Hundred Board Chart
Fillable Name Tags
Fillable Desk Plates with Emotional Check-In Feature, alphabet, name and Numbers
Class Names Mini Cut Out Designs
Read the Clock Helpers Mini Cut Outs
'Days to ___' Countdown Charts x 3
'Days at School' Tracker Chart

PLEASE NOTE BEFORE PURCHASE: All items in my store have been created by an Australian Teacher/Designer. Grammar, spelling, vocabulary, money and other items all reflect this unless otherwise stated in the individual product. Some products I do try to include multiple spelling options if there are common differences e.g. color and colour or behaviour and behavior. If there is a specific requirement you have, please feel free to get in contact via email with your request to: teachfunoz@outlook.com
THIS RESOURCE IS FOR SINGLE LICENSE USE ONLY, UNLESS MULTIPLE LICENSES ARE PURCHASED AT DISCOUNTED MULTI RATES. PLEASE RESPECT COPYRIGHT LAWS AND DO NOT SHARE WITH COLLEAGUES OR FRIENDS... BUT PLEASE DO SHARE MY STORE LINK SO THEY TOO CAN ENJOY THESE PRODUCTS AND MORE.
Thanks so much for your support