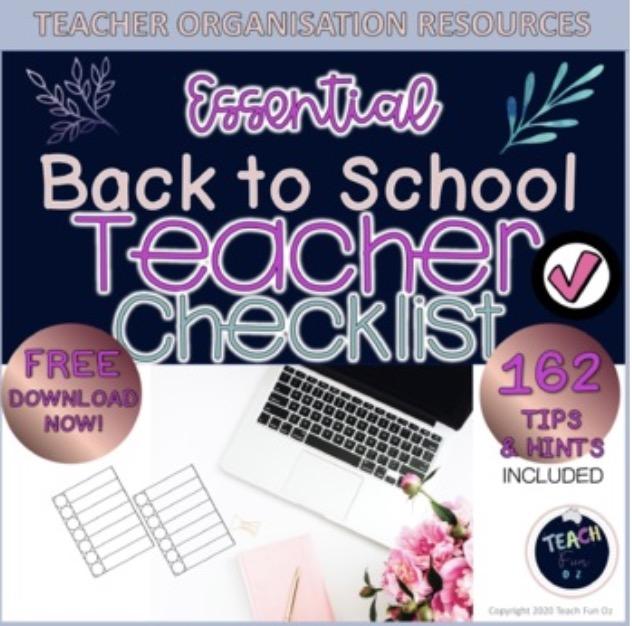 Back to School Teacher Checklist Guide to first week of school 162 Tips
Save

$0.00
Save

$0.00
Original price
$0.00
-
Original price
$0.00
An essential guide to help you for the
162 Hints and Tips included!
Are you a beginning teacher, not sure of whether you are really ready for Back to School yet?
Are you an experienced teacher wanting an easy checklist of reminders for the new year as you know how busy it is?
Are you feeling a bit disorganised and stressed and need something to keep you on track for setting up for your new class?
THIS IS IT! The Essential guide for Back to School - A Teacher Checklist that is EASY and COMPREHENSIVE to help you be as prepared as you can be, for all that is yet to come this year.
PDF - 10 pages + cover + letter from Ang - ready to print and add to your clipboard
TOU & Credits document
72 Tips - Back to School Teacher Checklist
+
60 Tips - Teacher Desk Checklist
+
10 Tips - The Day Before School Starts Back...
+
20 Tips - Useful Things for Your Classroom
I could charge for this resource, but because I once was in the position you are, I totally understand how stressful, rushed and exhausting it feels at the start of the year and I really just want to help fellow teachers get off to a great start, so they can be thinking about other things like meeting their gorgeous new students, setting up for the year and looking over this year's curriculum.
Take care of yourself... and please enjoy this resource.
I hope it helps you a whole bunch!!