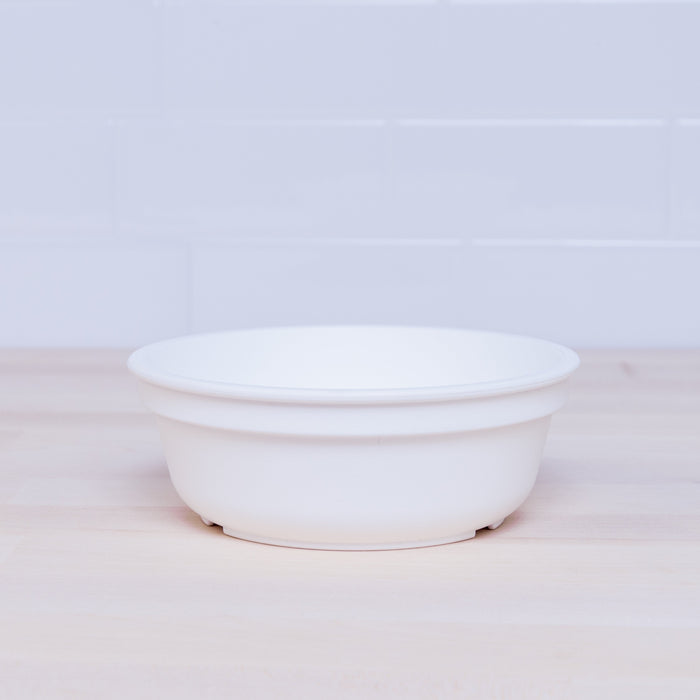 Re Play Bowl - Choose Colour Options
Save up to

$0.00
Save

$-3.28
Original price
$3.28
-
Original price
$4.02
Recycled plastic kids' plates, bowls, cups & utensils from Re-Play
Bowl
About Re-Play Re-Play plates, bowls, utensils, and cups are made out of recycled HDPE plastic – basically that means milk jugs! All Re-Play dishware is available in a wide variety of colors and sets. From snack stacks and no spill sippy cups, to divided and flat plates, each product is designed with the 5 tenets of responsibility in mind: Sustainability Re-Play uses curbside collected HDPE plastic.
Using recycled material saves waste from the landfill and uses less energy. Additionally, Re-Play products can be recycled again! Affordability We believe going green should be rewarded with saving green. Our products are not only affordable, but are made to last. Functionality Each product is designed with early eaters in mind. From divided plates with deep walls, to spill proof sippy cups with our patented No Spill valve, our goal is to make the self-eating process enjoyable and successful. Each product is developed with the influence of parents and caregivers. Our focus groups work with us from initial concept through finished product. The result is a simple, innovative feeding solution. Durability The thickness and durability of our product designs have been proven to last families through multiple children without wear or fading. All of our products are top rack dishwasher safe. You can even run over our divided plate with a car without causing damage! Safety Re-Play products are free from BPA, BPS, PVC, lead, phthalates and melamine.
The source plastic is specially selected and cleaned to meet FDA & EU strict purity standards. So we are confident it will meet yours. Like most plastics (and melamine), Re-Play is dishwasher safe and should NOT be used in the microwave. Our color concentrate is safe for food contact, and all ingredients in the colors are FDA approved. Re-Play is mainly a south-eastern USA operation – all the better for reducing our carbon footprint!
Our molding plant is within 150 miles of our warehouse and our packaging is just 20 miles away. In total, Re-Play travels approximately 940 miles from material to finished product. Most conventional plastic goods made in China travel over 12,000 miles! Compared to our competitors, we're reducing greenhouse gases and saving energy. About Recycled HDPE Plastic Our products are made from recycled HDPE, which is a #2 plastic. HDPE is also BPA-free, Phthalate free, and PVC free. Because it's made from #2 plastic, HDPE basically means milk jugs! It's one of the easiest plastics to recycle, and it can be recycled again and again. So drink your milk and toss that jug in the recycling bin!
According to the Healthy Child Health World website, if you are unsure about safely using plastic items, look for recycling codes 2, 4, or 5. Recycling codes 1, 3, and 6 can leach lead, bisphenol A, phthalates, and other stuff under certain circumstances. Recycling code 7 is the "Other" category. Some of these plastics are safer choices, like bioplastics such as PLA, while others can leach chemicals, etc. Read your labels for more information and proper care.
Quick Facts Recycling a 1-gallon milk jug saves enough energy to keep a 100-watt bulb burning for 11 hours. One pound of recycled plastic saves enough energy to power a 32" LCD TV for 3 days. One pound of recycled plastic saves enough energy to charge a smartphone for 31 weeks. One pound of recycled plastic saves enough energy to charge an electric car for 6 hours.