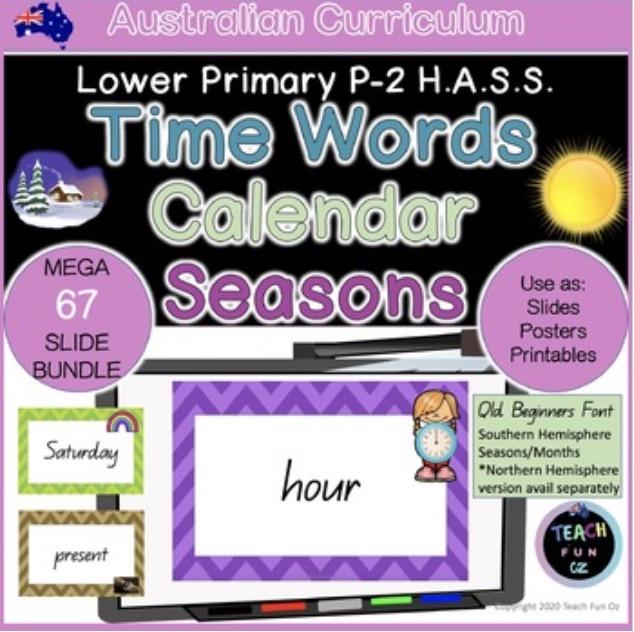 Southern Hemisphere Past and Present Time Words Calendar Seasons Mega Digital Bundle 67 Slides
Save

$0.00
Save

$-4.93
Original price
$4.93
-
Original price
$4.93
H.A.S.S & MATHS: Time Words - Past and Present | Seasons | Calendar 67 Slides/or use as Posters for Lower Primary
Australian Curriculum Aligned:
ACHASSK029 Year 1 H.A.S.S. Humanities and Social Sciences - How the present, past and future are signified by terms indicating time, as well as by dates and changes that may have personal significance and seasons
ACMMG020 Year 1 Maths - Calendar Work and Time - Tell time to the half hour
ACMMG021 Year 1 Maths - Calendar Work and Time - Describe duration using months, weeks, days and hours
ACMMGO40 Year 2 Maths - Name and order months and seasons
ACMMGO41 Year 2 Maths - Use a calendar to identify the date and determine the number of days in each month.
This pdf mega bundle contains 67 high quality slides with associated images and content words in Qld Beginner's Handwriting Font.
Can be used in slideshow format for whole class discussions, morning calendar and talk sessions, H.A.S.S. or Maths lessons. Could also be printed out as coloured poster sheets to display in classroom and/or use to hold up to discuss with students. Could also be used to 'sort' into 'Past' 'Present' 'Future' terms to introduce or consolidate the meanings and concept of history. Have students hold up the months of the year and seasons posters (one per child) and move around to put into correct sequence order in a line.
*
Time Terms
- past, present, future, now, later, next, yesterday, today, tomorrow
*
How do we show time?
- hour, minute, second, day, week, month, year, last week, next week, last month, next month, last year, next year, a long time ago, in the past, in the present, in the future
*
7 Days of the Week
- Monday, Tuesday, Wednesday, Thursday, Friday, Saturday, Sunday
*
12 Months of the Year
- Month names, Months Rhyme (30 or 31 days), February special posters x 2, month poster slides are all picture coded to match with what season they are in the Southern Hemisphere. (Northern Hemisphere also available in different listing).
*
Four Seasons
- posters with colourful matching pictures
*
Days in a year
fact poster slides x 2
*
Year slides
- 2019, 2020, 2021 (this year, last year, next year) + in 5 year's time - 2025, then 10 years - 2030
This product design is
Copyright to Teach Fun Oz
and not to be reproduced, redistributed, copied or used for anything other than personal single classroom teacher use. For additional use or sharing with others, please purchase required quantity of additional licenses for use at a discounted price from our store. Our products are NOT to be re-sold, altered, lifted from or copied. You are not permitted to claim these as your own in any way or use for a whole school/district program without prior authorisation and the relevant license requirements. Multiple licenses per user are available at discounted rates for this or get in touch at:
teachfunoz@outlook.com
Clip Art and Fonts are used under license and with permission. Please see our Credits/Acknowledgements page within the resource.
Questions to: teachfunoz@outlook.com
Thank you for shopping with TEACH FUN OZ!
Please be sure to get in touch if you have any concerns or feedback.
If you love our products, please be sure to let other teacher friends know and leave a REVIEW