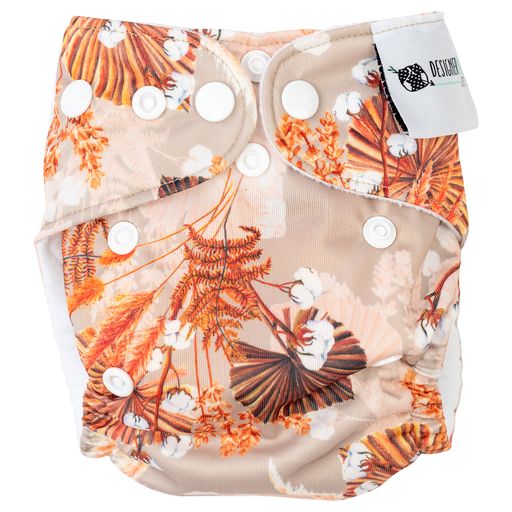 Boho Bouquet Little Newborn - Premature Cloth Nappy - Designer Bums 1.5-5kg
Save

$9.82
Save

$9.82
Original price
$19.68
-
Original price
$19.68
Newborn - Premature Reusable Cloth Nappies

These 'little' nappies are perfect for those tiny newborn and premature baby bums. Based on our famous trim regular nappy with some additional features to help in those early days. A luxurious cloud-soft fleece lining and an umbilical snap adds to your little ones comfort. The internal elastics contain everything inside the nappy and the super thirsty mini snake can be customised to suit absorbency needs. Same great look and shape, just Little.
Designed with newborn and premature babies in mind, the Designer Bums 'Little' range suits babies from 1.5 up to 5kg. Using premium materials designed to be soft and gentle against your little ones delicate skin these Reusable Cloth Nappies are a safe and sustainable option for your family to use from birth.
Designer Bums nappies feature our signature trim-fit and exclusive, limited-edition designer prints. Lined with a cloud soft vegan microfleece which is a one-way fabric, allowing liquid to pass through and be drawn away, keeping baby's skin dry and comfortable. The water-resistant PUL (polyurethane laminate) outer layer keeps moisture from leaking through so you don't need an extra cover.
Designer Bums Newborn Cloth Nappies come with a super-thirsty bamboo tri-layer snake insert made from high-quality, natural bamboo/cotton fibers. The snake insert can be customised to provide absorbency where you need it most by folding. The nappy also features an extra middle snap under the umbilical cord for extra comfort as well as an elasticated containment panel to provide extra  protection against leaks.
Designer Bums Newborn Cloth Nappies are recommended for daytime or night-time use with different boosting combinations to suit. Day boosted nappies should be changed every 2-4 hours for comfort and hygiene. Designer Bums cloth nappies are known for a nice, snug trim shape. Designer Bums 'Littles' are designed to fit prem and newborn babies from 1.5-5kg.
Features 
Designed to fit babies from 1.5 - 5kg

Snap down the nappy under the umbilical cord using our feature snap in those first few days to provide extra comfort 

Each nappy comes with two tri-layer inserts made from a very absorbent bamboo; a smaller snap-in insert and a long anchor shaped insert, which is all you need to start your cloth nappy journey.

Inserts feature a vegan suede lining, a one-way fabric designed to draw moisture away from your baby's delicate skin, keeping them dry and comfortable

PUL (polyurethane laminate) outer, which keeps moisture from leaking through, taking away any need for additional covers

2 rise settings to allow for customisation as your little one grows

Features custom hand illustrated custom designs

Australian owned and designed for over a decade
Check out the full Care Instructions here.