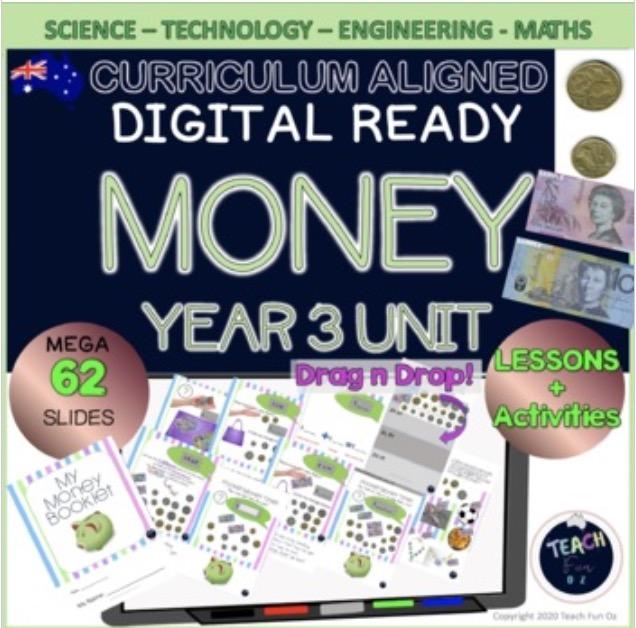 Australian Money Maths Unit Year 3 Grade Distance Learning Google Activities 62p
Save

$0.00
Save

$-6.13
Original price
$6.13
-
Original price
$6.13
Australian Money Maths Unit Year 3 Grade Distance Learning Google Activities 62p
ACMNA059 - Represent money values in multiple ways and count the change required for simple transactions to the nearest five cents
Unit presented in logical learning sequence to revise, extend and consolidate understanding. SEE FULL PREVIEW HERE
Comprehensive 62 SLIDE/PAGE UNIT OF WORK including everything you need - Teaching Slides, Worksheet Activities, Whiteboard/Projector ready activities/slides, A4 Printable, to assign or send out to students online in your class (single class use only - purchase multiple licenses at discount price for 2 or more classes)
My Money Booklet (mix and match activities and reference pages you would like to include for your students)
Real life Australian currency coins and notes photo images (correct size, shape, colour, print)
Drag and Drop activity online, online fill in answer boxes ready to use (NO PREP!) on Google Slides (we've added all the input areas for you already and added the coins and notes to drag and drop so you are set to go in the classroom or through distance learning at home).
Introduction/revision of each Australian Currency Note and Coin up to $100 note.
Writing numeration of money values in decimal form to 2 places.
Cost price when purchasing, paying more than the amount and receiving change
Calculation of difference in value needing to receive in change
Alternative ways to work out the amount of change needed using addition and subtraction, skip counting to nearest ten, to nearest dollar, to nearest note
Explanatory diagrams to show working to whole class
Increasing complexity of questions and activities so you can use for whole class and for separate differentiated activities where needed.
Choosing multiple ways of demonstrating same value of money
Calculating how much money earned for pocket money shown
MASTER COPY INCLUDED - print and laminate - change amount for students to practise over and over on
Print and draw activity - Value given, students draw coins and notes to match in box. (This activity can also be completed as a class on the board, in their books or online through Google Slides/Google Drive accounts for at home or distance learning with drag and drop feature added in this version included)
Go Shopping! Students choose what they would buy with money at the end
TEACHER NOTES INCLUDED - with additional ideas and explanation
GREAT TO SET UP A CLASS SHOP AS A CULMINATING ACTIVITY FOR THIS MONEY UNIT.
Need other distance learning or maths activities and lessons? Check out our full range on the store! Stay tuned for upcoming additions in this series of resources!