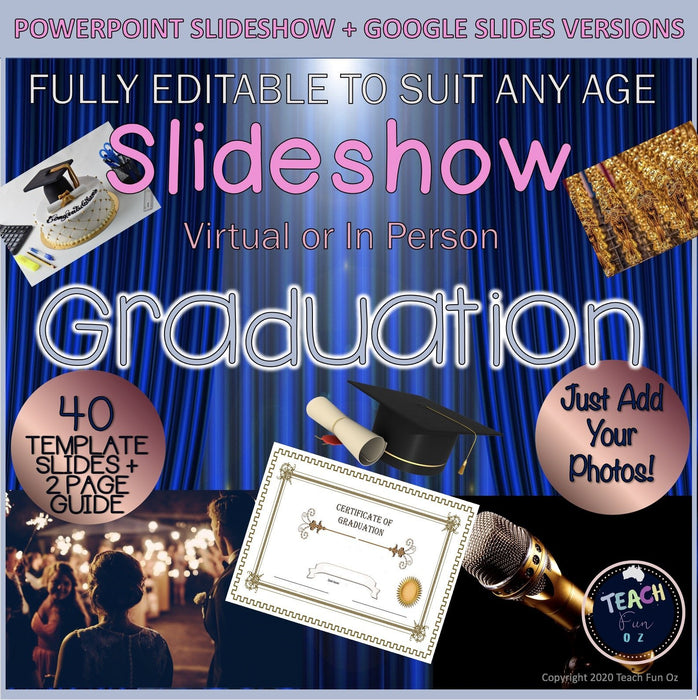 Graduation Ceremony Slideshow Digital Formal End of Year Awards Year 6 12 Kindy
Save

$0.00
Save

$-11.79
Original price
$11.79
-
Original price
$11.79
SEE VIDEO PREVIEW FOR SNEAK PEEK BEFORE PURCHASING

This HIGH QUALITY, PROFESSIONAL complete bundle includes 43 Digital Slides Presentation to ensure your special event runs smoothly while saving you TIME and STRESS! Just swap in your own photos, text and details, duplicate slides where you need more, omit slides where you need less and truly customise to your liking. Change images to suit your age group or event type. Insert videos, hyperlinks, photos, clipart of your own if you wish.
We have designed this Graduation / Formal / Virtual Awards Night to be exciting and to really set the scene whether your event is in person OR via distance learning and virtual via Zoom ®, Youtube ®, Microsoft Teams ® or Skype ® this year! You can still have fun and celebrate the End of Year with your students, class, school or cohort. This year will be like no other! Let's make it count!
We've done almost all the hard work in setting up for you!
CHECK THIS OUT...

SEE TERMS OF USE IN THUMBNAIL IMAGE BEFORE PURCHASING.
NOTE BEFORE: This presentation works best in Powerpoint but other file types are also provided. You will need to have installed access to Powerpoint program AND Access to Google Account, Google Drive, Google Slides to download files via link that will be available to you upon purchase.

THIS LISTING IS FOR SINGLE PURCHASER LICENSE TO USE SOLELY FOR THEIR OWN CLASSES AND CANNOT BE SHARED, COPIED, DUPLICATED OR RE-SOLD OR DISTRIBUTED IN ANY WAY.
FOR MULTIPLE USER LICENSE PLEASE SELECT QUANTITY REQUIRED. FOR SCHOOL OR DISTRICT LICENSING AND COMMERCIAL USE PLEASE EMAIL TEACHFUNOZ@OUTLOOK.COM

MASTER SLIDESHOW (Recommended)- Powerpoint for Mac ® (pptx file) version 2020 with special effects (can be edited or omitted), Powerpoint® for Microsoft (ppt file) - 1997-2003 version, Google Slides® version (some effects and layout differences in this version but can be edited and played using Google Slides® and Google Drive®
2 X PAGE IDEAS AND INFORMATION PAGES
43 SLIDES IN TOTAL - 40 PRESENTATION PAGES AS PER BELOW:
Blue formal stage curtains backdrop (this can be changed)
'Arrivals' slide - complete with graduates image and photographer image and 'Applause' effect (only applicable in Powerpoint for Mac version and can be switched off if preferred)
Opening curtains special animation effect on first slides already set up for you
'Welcome to our Graduation 2020' slide (can be edited to suit your occasion and used in other years as you require)
'Today we celebrate....' slide
'Tonight we celebrate...' slide
'Introducing... Our Principal' slide - cue for speech
'Introducing... Our Teachers' slides - cue for speeches
'Introducing... Our Valedictorian' slide - cue for speech
'Take a moment to look back before we look forward...' slide
'Our Special Memories' Album slide
'Our Special Memories' Album - Insert Photos slides (can be duplicated for as many as you need)
'And now... enjoy these special performances by our wonderful students' MC Page
'Introducing...' First Act slide
'Introducing...' Second Act slide
'Im-POSSIBLE' inspirational slide
'This year has certainly had its Challenges along the way... But our students can work through any situation with strength and resilience' slide
'Congratulations to All of Our Graduating Students of 2020' slide
'Certificate of Graduation' blank slide
'Certificate of Graduation' editable slide with text boxes to fill for each student. (Duplicate template slide as many times as you need first before entering individual details for each student)
'And now for our Special Awards of 2020' slide
'Fun Awards' category slide
'Sporting Achievement' category slide
'Cultural Achievement' category slide
'Academic Achievement' category slide
'Outstanding Achievement' category slide
'Congratulations' slide
'Now for a Graduation Photo' slide
Insert Cohort Photo here - slide
'Knowledge is Power' motivational slide
'Your Road to Success Awaits you...' inspirational slide
'Class of 2020 CONGRATS YOU DID IT!' slide
'Let's Celebrate' balloons slide
'Cutting of the Cake' slide
'Enjoy' cake slice slide
'Guest Book Signing' slide
'After Party begins' - Thanks for joining us tonight slide
'After Party - Let's Dance!' slide
END OF YEAR AWARDS
GRADUATION / END OF YEAR SONG PLAYLIST
YEARBOOK
Stay tuned for more quality products being added to our store regularly. Please feel free to get in touch with any other resources you would love to have as we are always working on new ideas to suit what educators need and want. We love creating products to help save you time and create a fun learning Environment in your classroom/home learning space.