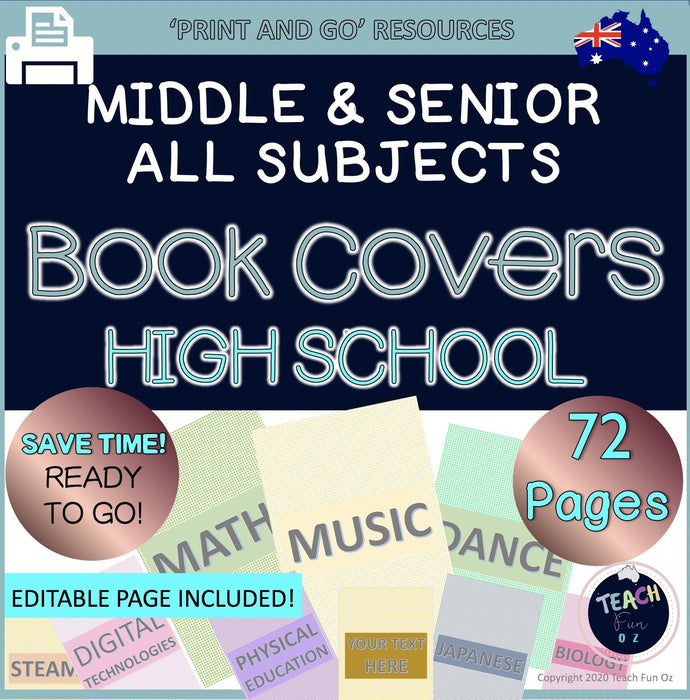 High School Middle School Subject Book Covers Title Cover Pages 72pg Australian
Save

$0.00
Save

$-2.96
Original price
$2.96
-
Original price
$2.96
72 AUSTRALIAN SUBJECT DIGITAL BOOK COVERS OR TITLE PAGES SUITS MIDDLE SCHOOL, HIGH SCHOOL AND UPPER PRIMARY (check list of included subjects OR create your own as needed on the included EDITABLE TEXT page) A4 SHEETS.

❤ Ready to colour print or use digitally for subject folders (could be used as images with links for subject content in digital learning platforms), nice and clear, modern and appealing to older students and staff. 72 Printables.
>Get your classroom ready for Back to School no matter what year level you have this year. Printables to suit all ages.
>Your students will be excited to organise their new workbooks in readiness for the year ahead. They can use as a title page to glue inside their book or as a display folder cover page that is ready to go on the first day without taking up valuable time.
INCLUDES THESE SUBJECT TITLES:
Maths, Math, Algebra, Fractions, Mathematics, English, English & Humanities, Humanities, Science, Music, Dance, Drama, Digital Technologies, Visual Art, Art, Food Technology, Hospitality & Home Economics, Hospitality, Cooking, Home Economics, Textiles, Textiles Technology, Sewing, Sport, Physical Education, Physical Ed, H.P.E, P.E., Woodwork & Design, Woodwork, Industrial Technology, Mechanics, H.A.S.S, STEM, STEAM, Foundations, Christian Studies, Ethics & Religion, Religion, Kitchen Garden, Agriculture, Biology, Chemical Science, Physics, Astronomy Science, Earth & Space Science, Integrated Studies, Homeroom, Pastoral Care, Roll Call, Notebook, French, L.O.T.E, Language Arts, Spanish, Japanese, Health, Writing, Grammar, Technology, Fast Finishers!, Media, History, History & Humanities, Geography & Humanities, Geography, Social Studies, Homework, Journal, Writing Journal, Gratitude Journal
+ extra slide at the end for Your Text Here ... (editable page option to customise to suit your needs)
COLOUR PRINT IN A4 SIZE (or adjust printer settings to print smaller or larger before printing) AND GLUE INTO BOOKS OR SLIP INTO FOLDERS.
***Includes Australian spelling
***Includes editable page at the end of the document to input your own choice of title if not already included in this pack.
THIS CLASSROOM ORGANISATION POST PACK INCLUDES: >> 1 x Terms of Use and Copyright Information >> 1 x Powerpoint file created on Powerpoint Mac in pptx file