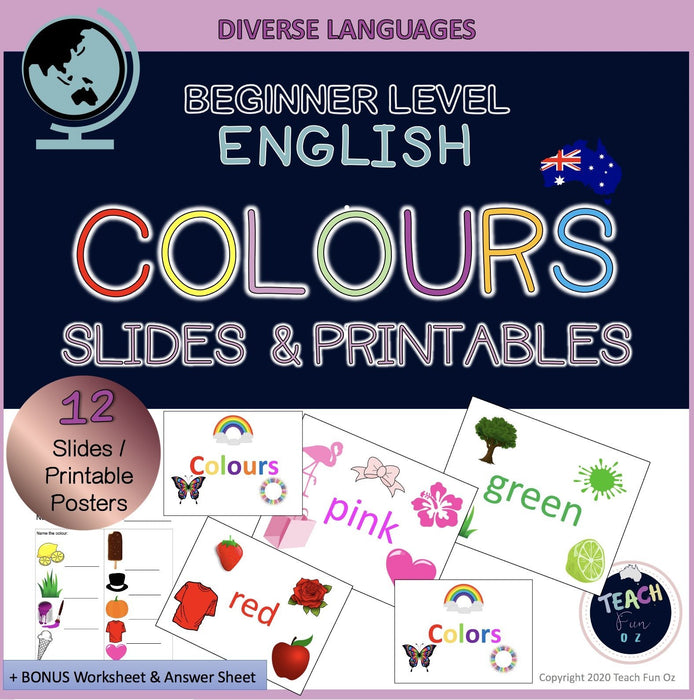 English Colours Colors Language Beginner Posters and Worksheet Google Slideshow
Save

$0.00
Save

$-3.06
Original price
$3.06
-
Original price
$3.06
Once purchased, you will be able to access the files through Google Drive links. They can then be assigned to Google Classroom, Seesaw and various other Learning platforms or used as is, as a slideshow for in class viewing or printed out as classroom posters and worksheets.

Students learning Beginner English Language will love this simple colourful worksheet to revise their colour / color words.
>>>Worksheet can be printed out for students to complete, assigned to Google Classroom, See Saw or similar online distance learning program or could be laminated and used with whiteboard markers to practise in class or at home.

IMPORTANT NOTE:
You must have a Google Drive account to access this file. If you don't yet have one, you can set up one through Google for free to store your files online.
Once downloaded, you can use as a slideshow on Google Slides on any device using internet connection.
You may also download the slideshow to your device for use. Once downloaded you may also print the slides out as colour posters and laminate for display in your room or to make a class book.
Worksheet and answer sheet can also be printed out for student use.
The purchase of this resource is for single personal or classroom use only. For whole grade or school use please purchase the required number of licenses (discount for extra licenses if purchased at same time).
You may not share this resource with colleagues, but your recommendation to them to visit our store is greatly appreciated so they can save time and purchase great resources for their classrooms too. All resources are Copyright by Teach Fun Oz and cannot be duplicated, copied or distributed in any way other than directly to the purchasing recipient. Please see our full terms of use attached with purchased files. If you have any questions prior to purchase, please get in touch at teachfunoz@outlook.com
Thank you
Would you like this set in different languages? Email us to request and we'll arrange this for you where possible.