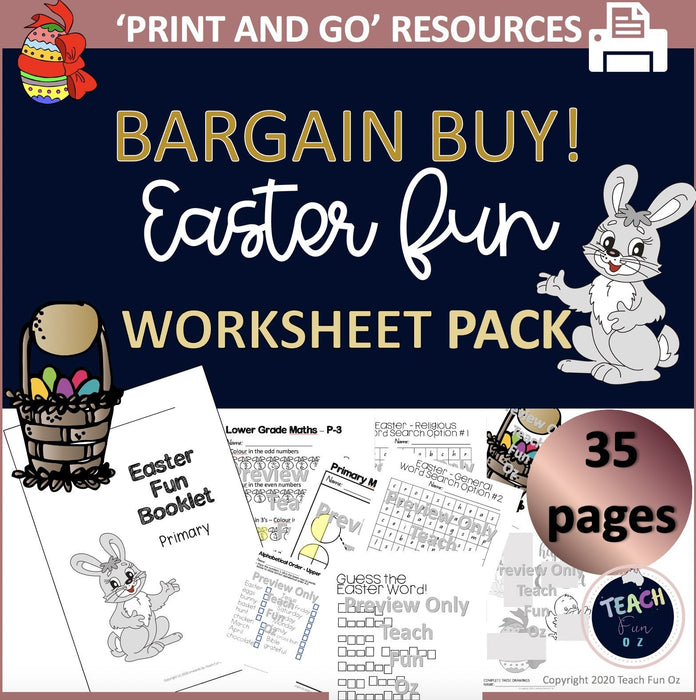 Easter Fun Activity Worksheet Packet Booklet Primary Word Search 19 Activities
Save

$0.00
Save

$-2.72
Original price
$2.72
-
Original price
$2.72

Primary school age
GREAT VALUE AND QUALITY Easter Activity Booklet in PDF FORMAT with 35 pages including 19 activities your students will LOVE and the Teacher answer sheets to help you out!
You will receive a ZIP file and will need to make sure your computer or device has the capability to unzip this file first.
* Note: this is NOT an editable resource. Ready to print as is.
VIEW PREVIEW PRIOR TO PURCHASE HERE

NO prep printables. Could be used for distance learning online also by assigning to Seesaw (TM), Google Classroom (TM), One Note (TM) or similar. Ready to Print. Great for classroom teachers, substitute or relief teachers.

Includes -
Printables to make into a booklet if you wish
Mix and match activities to suit your class - some suit lower primary, others middle or upper primary and some would suit either.
Teacher answer sheets included


Maths activities
Early writing activity
Alphabetical order Easter vocabulary list
Social media - 'Draw your Easter Snapshot' template
Colour in basket
Make your own bunny - colour, cut, paste activity
Themed word Search (general and religious Easter options)
Guess the word – fill Elkonian word boxes
Complete these drawings
Easter mazes x 4
Easter plural words match up
Easter vocabulary - word types - proper noun, noun, adjective, verb
Easter egg jigsaw puzzle
Teacher answer sheets
A bit of fun that your students will LOVE and you will be able to use for many lessons to come!

SAVE TIME! WE'VE CREATED THESE FOR YOU SO YOU DON'T NEED TO MAKE YOUR OWN in the limited spare time you have.
At this affordable price, it's sure to be worth it! Then you can focus on other important things, like organising your classroom, planning, marking, reporting, parent teacher interviews and more.

Please leave a review if you love this resource! You'll earn TPT rewards to use on future resources! How cool is that! You'll also help others who may be interested in this resource and also help our small tpt store :)

❤️Related Products

❤️ Basic Addition Making Tens Facts Single Digit Number Facts Frogs
❤️ Basic Addition Making Tens Single Digit Numbers Rainbow Facts Numicon Number
❤️ How do I get home - Bag Tags - Primary Kindy Prep Travel Labels
❤️ History Time Past and Present 25 Digital Photo Cards Boom Learning Year 1 and 2
❤️ Seasons Calendar Days Time Digital Learning Cards Boom Deck Aust Version 54pg
❤️ Seasons Calendar Days Time Digital Learning Cards Boom Deck US UK Version 54pg
❤️ Year 1 Spelling Unit Bundle - 9 Weeks Lists Activities Packet Distance Learning
Stay tuned for more quality products being added to our store regularly. Please feel free to get in touch with any other resources you would love to have as we are always working on new ideas to suit what educators need and want. We love creating products to help save you time and create a fun learning Environment in your classroom/home learning space.