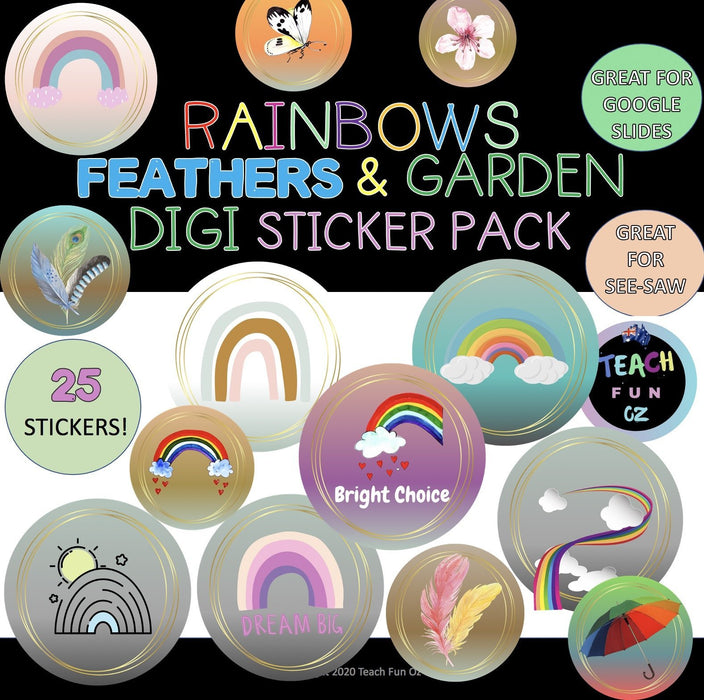 Digital Stickers 25 Pack Rainbows Feathers and Garden for Seesaw Google and More
Save

$0.00
Save

$-1.70
Original price
$1.70
-
Original price
$1.70
All things bright with this stunning, colourful and happy pack your students will ADORE!
With teachers all around the World turning to online learning more and more and home schooling these days, you can add a little 'extra' motivation and fun with our DIGI STICKER PACK!
Files come in ZIP file of 25 PNG sticker files in format ready to upload (are NOT printed for you, these are a digital product) Simply open your See-Saw or other online program, open the student work file and 'edit', have open at the same time - your document folder. With most programs you can just drag and drop into student work space where you'd like it, re-size and move as required. Alternately you can add it as an import image or copy and paste file into the student's document or any other document you like! This will add your own flair and encouragement or feedback to student work samples when submitted to you. Be sure to SAVE again after adding feedback/digi sticker so they see your special additions! ;). Also works great for Slideshows, Online Learning and Interactive Whiteboard Lessons.
ZIP file also includes Copyright Information.
Choose individualised stickers to suit each of your special students!
They will be so excited to see what you have picked for them when they log in!
STAND OUT AND MAKE A STATEMENT WITH THESE SUPER COOL TEACHER STICKERS! SAVE TIME MONEY AND THE ENVIRONMENT! Have students take a photo of their work and submit to you, you mark it online easily wherever you are and add cool stickers digitally, instead of spending heaps and wasting loads of sticker sheets every day!
 Make the switch to the DIGITAL AGE today! JOIN loads of classrooms already using digital stickers solely, or in conjunction with their manual marking too.
 Once you GET STARTED, you will be SO EXCITED to get to your marking each day!! JOIN the latest craze sweeping the teaching world! ;)
These products are Copyright to Teach Fun Oz and are not to be reproduced, redistributed or used for anything other than personal single classroom teacher use. For additional use or sharing with others, please purchase required quantity of additional licenses for use at a discounted price from our store. Our products are NOT to be re-sold or copied.

Thank you for shopping with TEACH FUN OZ!
Please be sure to get in touch if you have any concerns or feedback.
If you love our products, please be sure to let other teacher friends know and leave a REVIEW on our TPT store. CLICK FOLLOW up top of our store, for all the latest products, updates and FREEBIES to come!
Questions to: teachfunoz@outlook.com