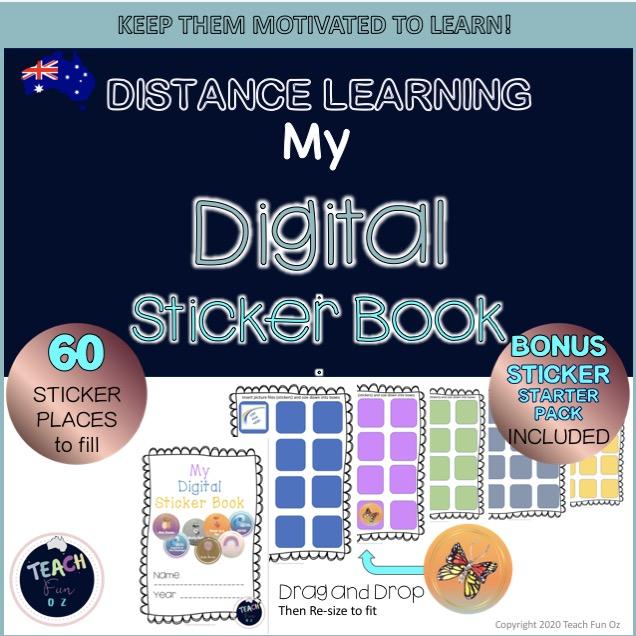 Digital Sticker Book with 8 Sticker Starter Pack for Home School Distance Seesaw
Save

$0.00
Save

$-2.63
Original price
$2.63
-
Original price
$2.63
are so much fun to keep your class motivated to learn in any distance learning, learning at home or remote learning situation. They are also fabulous for homework, even when schooling resumes back in person. This digital sticker book pack is the perfect way to get started with:
6 page digital sticker book - cover to write name and year, alongwith 5 different coloured pages with easy to follow grid boxes so students can drag and drop their stickers into a nice order and fit lots of each page. The boxes help as a guide for students to learn how to resize image files. Teacher may do this process for them.
Sticker book comes in pdf version
Also includes png versions of each page to use as many as you need in various colours to insert as image files if required
Includes BONUS 8 x digital stickers to get you started (a selection of our favourites from the many other sticker bundles we sell on our store separately if you need more)
Includes Powerpoint file also
EXTRA INFO:
IN GOOGLE: Make a separate copy of 'My Digital Sticker Book' pdf for each individual student account.
IN SEESAW: Upload the PDF or save the individual PNG page files and assign.
You can duplicate or add these page files as many times as you need for the students to fill with stickers. 6 pages (including the cover page) are included to start with. 8 x digital sticker PNG files are also included for you to download/upload to the program you are using for distance learning or remote learning.
Add text boxes to add student names on front cover and class/year
To add stickers - 'Insert Image' or 'Add Image' can be used. Drag and drop is also an option in some programs from a download library of images. The teacher may add directly over student work when marking and/or the student may move the stickers they receive over to their Digital Sticker Book file for keepsaking.
Many teachers and students like to fill them up and then print them out for a physical keepsake.