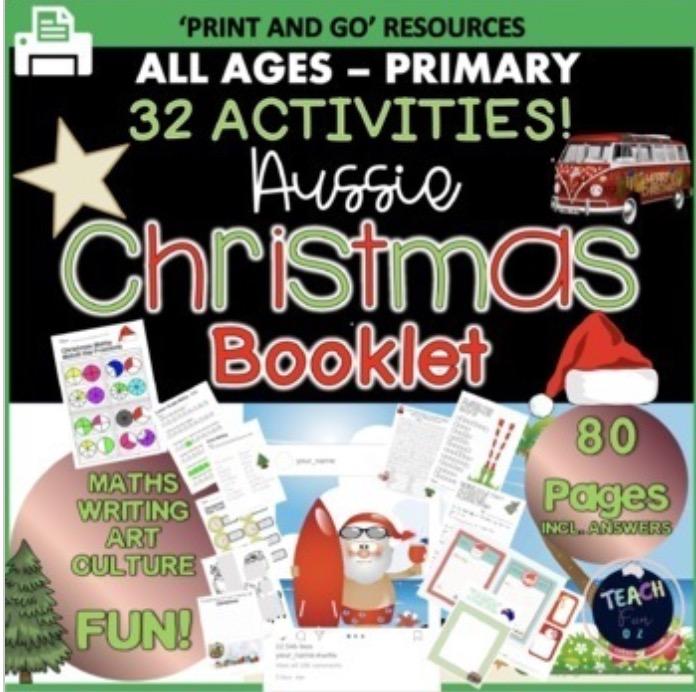 Australian Christmas Worksheets Aussie Activity Packet 80 page Printable Booklet
Save

$0.00
Save

$-5.91
Original price
$5.91
-
Original price
$5.91
GREAT VALUE AND QUALITY 80 Page Booklet with
32 activities your students will LOVE!
You will receive a ZIP file and will need to make sure your computer or device has the capability to unzip this file first. Within the ZIP file is 4 files
- TOU and Credits READ FIRST document
- pdf version of activities
- pptx Powerpoint Mac version
- ppt Powerpoint Microsoft version
* Note: this is NOT an editable resource. Ready to print as is.
Activities with a difference. You'll have your Christmas unit sorted with this NO prep printables. Could be used for distance learning online also by assigning to Seesaw (TM), Google Classroom (TM), One Note (TM) or similar.
Ready to Print for all ages of primary or elementary school.
Great for classroom teachers, substitute or relief teachers.
-
Printables to make into a booklet if you wish
Mix and match activities to suit your class.
Teacher answer sheets included
Concepts and skills covered:
handwriting
analogue and digital time
fractions and equivalent fractions
odd and even numbers
counting in 3's
counting on from starting number
creating colour pattern
early writing - tracing over words
older primary - problem solving - words
spelling and word recognition
creating own word search - spelling
decoding words
modifying a rhyme with own version
memory skills
fine motor skills
creativity
hand-eye coordination
word knowledge
family releationships
celebrations and traditions
cutting skills
design decision making
problem solving
spacial awareness
text - letter writing structure
sentence structure, grammar, spelling, punctuation
vocabulary
empathy for others in the family, community, World, animals, the Environment
gratitude
writing skills
cultural differences
geometrical design and colour
1.Cover page Colour In
2.Christmas Maths – Santa's Clocks
3.Christmas Maths – Match the Fractions Game
4.Lower Grade Maths P-3 – Tree Counting
5.Early Writing – Trace Christmas Words
6.Older Primary – Jumbled Christmas Words
7.Christmas in Australia Word Search No. 1
8.Christmas in Australia Word Search No. 2
9.Christmas in Australia DIY Word Search
10.Guess the Christmas Word – Fill Boxes
11.DIY 12 Days of Christmas – Aussie Style
12.Traditions of our family at Christmas Time
13.Celebrations word challenge
14.Instagram Snapshot – My Christmas Day
15.Instagram Snapshot – My New Year
16.Pinterest Collage – Loved Ones at Christmas
17.Complete the Christmas Pictures
18.Colour In – Santa at the Beach!
19.Colour In – Rudolph the Dog!
20.Colour In – Winter Christmas in other places
21. Colour In – Baubles
22. Colour In – Christmas Fun
23. Colour In and Cut Out – Christmas Tickets
24. Dear Santa letter
25. From Santa letter
26. Christmas Gift tags
27. Thinking of Others – Wishlist
28. My Wishlist – I'd be grateful for..
29. A Merry Christmas letter
30. Colour In – Happy Holidays, Merry Xmas
31. Design Santa's Surfboard – front and back
32. Decorate your Christmas tree
A bit of fun to finish the year with Christmas themed activities! Your students will LOVE these!
SAVE TIME! WE'VE CREATED THESE FOR YOU SO YOU DON'T NEED TO MAKE YOUR OWN in the limited spare time you have in the final weeks of the year!
At this affordable price, it's sure to be worth it! Then you can focus on other important things, like packing up your classroom, final marking and reporting, parent teacher interviews, end of year presentations, Christmas performances and preparing for your new class next year!
Please leave a review if you love this resource!