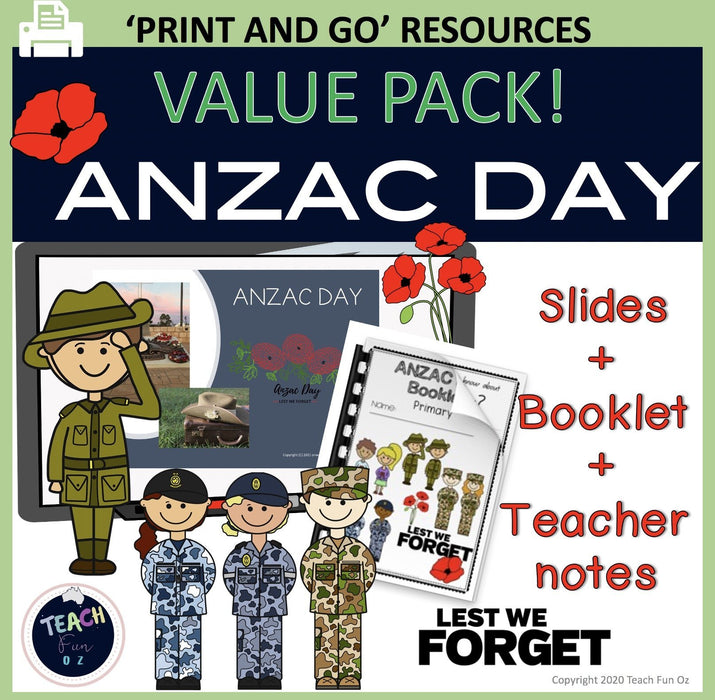 Anzac Day Activities Worksheets Packet Booklet Anzac Facts Slideshow Primary 42p
Save

$0.00
Save

$-4.22
Original price
$4.22
-
Original price
$4.22

Includes massive 42 pages in total to cover everything:
Anzac Day slideshow with AUDIO voice reading - Powerpoint and pdf formats (note: audio does not work on pdf format - only the ppt format)
10 Slides of facts and images to match with the fact recording worksheet
VIEW STUDENT ACTIVITY BOOKLET PREVIEW PRIOR TO PURCHASE HERE
VIEW TEACHING SLIDESHOW PREVIEW PRIOR TO PURCHASE HERE
Anzac Day date of commemoration
What ANZAC stands for?
Lest We Forget
What is a Dawn Service?
Why is the Red Poppy symbolic?
Where is Gallipoli?
7 page teacher notes booklet - includes answers to activities and teaching notes
26 page student printable worksheet booklet
Activities include-
Colour in cover page
What do you already know about Anzac Day?
Word Wall page
Anzac Day topic vocabulary - early writing - trace over words activity
Anzac Day topic vocabulary - upper primary - alphabetical order activity
Slideshow - answer the questions sheet
Look it up! Dictionary or online research activity to find meanings of common Anzac Day terms students may not yet know the meanings of
Remembrance or Celebration? Discussion starter sheet
Meanings of remembrance and celebration
List of Wars Australia and New Zealand have fought in
Comparison - Venn Diagram for two public holidays - Anzac Day and New Years Day - similarities and differences (completed teacher notes are included in teacher notes booklet to assist you)
Guess the Anzac Day words activity - Elkonian style word boxes
Draw what you normally do on Anzac Day - Social Media style snapshot template
Anzac Day Vocabulary Word Search - Junior
Anzac Day Vocabulary Word Search - Senior
Complete these drawings - themed pictures
Lest We Forget poster colour in
Lest We Forget colour in wreath
Make your own DIY B&W wreath - colour, cut, create - poppy and leaves templates
Make your own DIY wreath - colour copies ready to print in colour ink, cut, create
Completed examples to show students
Procedural text - Anzac Biscuits recipe sheet
Anzac Day - The Ode (for students to practise in the lead up to Anzac Day ceremonies so they can participate in the recall of The Ode too).
GREAT VALUE AND QUALITY Anzac Day Activity Booklet in PDF and POWERPOINT SLIDESHOW FORMAT
You will receive a ZIP file and will need to make sure your computer or device has the capability to unzip this file first.
* Note: this is NOT an editable resource. Ready to print and use as is.
NO prep printables. Could be used for distance learning online also by assigning to Seesaw (TM), Google Classroom (TM), One Note (TM) or similar. Ready to Print. Great for classroom teachers, substitute or relief teachers.

Includes -
Printables to make into a booklet if you wish
Mix and match activities to suit your class - some suit lower primary, others middle or upper primary and some would suit either.

SAVE TIME! WE'VE CREATED THESE FOR YOU SO YOU DON'T NEED TO MAKE YOUR OWN in the limited spare time you have.
At this affordable price, it's sure to be worth it! Then you can focus on other important things, like organising your classroom, planning, marking, reporting, parent teacher interviews and more.

Please leave a review if you love this resource!