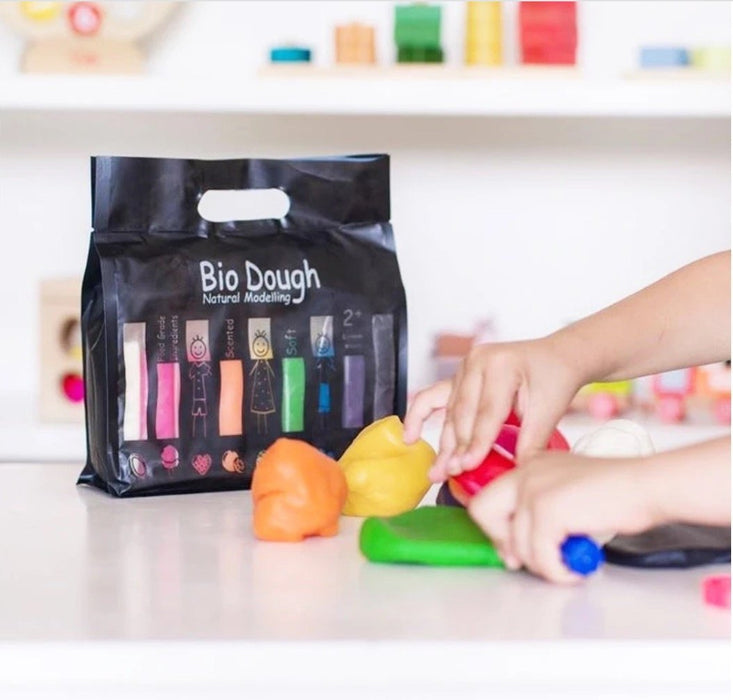 Bio Dough Rainbow in a Bag 9 fun colours and scents
Save

$0.00
Save

$-20.40
Original price
$20.40
-
Original price
$20.40
Rainbow in a Bag | 9 fun colours and scents - Bio Dough

This isn't just ordinary Dough... Bio Dough is the safest, softest stimulating dough to play with. It is imagination, sensory goodness, inspirational colours and gorgeous scents. It's play at it's best, naturally.
Why Bio Dough?
Natural and Safe
All natural elements are sourced from certified Australian suppliers and the product is made in Australia.  
Soft and Fun
100% Australian Made and Owned
Gorgeous Scents - allows endless colour and smell combinations.
Rehydratable - YES!
Bright and Colourful
Food Grade Ingredients
Bio Dough is available in 9 gorgeous colours and scents using food grade colours and fragrance.
Bio Dough stimulates kids' visual, tactile and olfactory senses. 
Bio Dough is naturally preserved for kids to enjoy with peace of mind for parents and teachers.
Our Rainbow in a Bag contains;
9 x 125g colours  - 1125g of assorted natural modelling Bio Dough.
9 bright and fun colours and 'yummy' scents to smell!
White - Coconut
Pink - Fairy Floss 
Red - Strawberry 
Orange - Orange #echo! haha
Yellow - Pineapple 
Green - Lime
Blue - Blueberry 
Purple - Lavender 
Black - Blackberry 
So much fun in one bag!
Here are a few of our FAQ's 
What's the minimum age to use Bio Dough?
Bio Dough is recommended for kids 2 years up


Is Bio Dough gluten free?
Bio Dough contains wheat, do not allow children with gluten sensitivities to use.


What is Bio Dough made of?
Bio Dough ingredients are mainly wheat, salt, oil and water... The remaining ingredients are common in commercial kitchens. 
What makes Bio Dough different from the homemade dough?
Bio DoUgh is as safe as the homemade dough with similar ingredients.  But what makes Bio DoUgh so special is it's unique soft and malleable texture. Don't feel bad if you can't do the same at home. Bio DoUgh was developed by food experts and technoligists to achieve much better texture and longer durability.
Is it safe for my kid to eat it?
Bio Dough testing shows that it is as safe as food, that said, Bio Dough is a toy and not supposed to be consumed. The salty taste wasn't covered, to discourage consumption.


What is the best way to preserve Bio Dough once open?
We stock lockable and stackable containers to store Bio Dough once kids are done playing. But also it can be placed in any airtight container or zip lock bag and should be kept in a cool dry place.


If it was left in the open and dries do I have to throw it away?
Bio Dough is rehydratable, so if dries, simply add a few drops of water which will bring it back to its original state.

How to avoid ending up with unwanted brown?
The best way is to use Bio DoUgh colours of the same group together:

Group 1:
Yellow / Orange / Red / Pink / White / Black
❗NO: Blue / Purple / Green
Group 2:
Red / Pink / purple / Blue / White / Black
❗NO: Yellow / Orange / Green
Group 3:
Yellow / Green / Blue / White / Black
❗NO: Red / Pink / Orange / Purple
How long will it take to receive my order?
Orders are shipped from Sunshine Coast Qld generally within 24 hours and generally take 3-5 working days, however, it depends on your location.


What's the shelf life of Bio Dough?
Bio Dough can last up to 2 years in its original packaging.


How long does it last once open?
It is best to dispose of Bio Dough after 3 months from opening to avoid cross contamination.