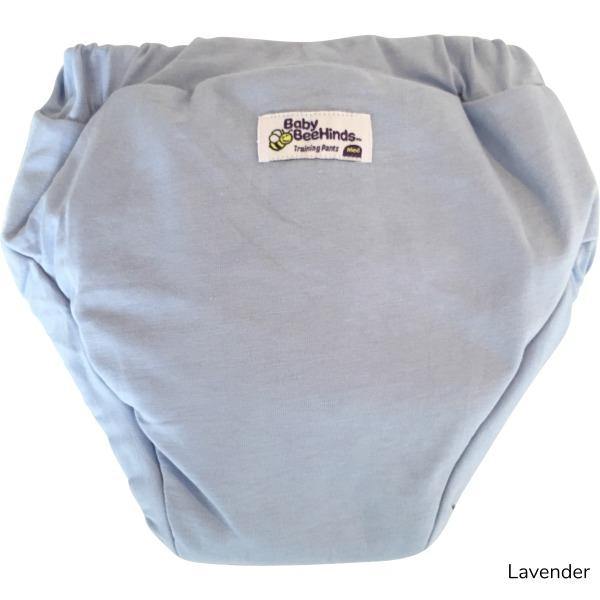 Baby BeeHinds Organic Cotton Training Pants Lavender
Save

$10.21
Save

$10.21
Original price
$20.43
-
Original price
$20.43
Sea Glass Baby BeeHinds Organic Cotton Training Pants - Stockist Australia

Baby BeeHinds is 100% Aussie owned company who strive to provide a diverse range of modern cloth nappies to Australian (and international) families. We like to ensure that our products are manufactured in an ethically sound manner each step of the way.
Training Pants
Available in a range of cute colours. This is the ultimate in toilet training accessories! Designed to look & feel like real undies, but able to hold those little accidents, keep clothes dry AND the ability to add two levels of extra absorbency as your little one improves their skills! Easy for toddlers to pull up themselves and grow confidence with toilet training. Also great for car trips or when you know you need a little extra time to find a toilet! 

2017 Best Re-usable Training Pant - Cloth Nappy Awards 
2016 Best Re-usable Training Pant (Runner Up) - Cloth Nappy Awards 

Features Include: 
Various sizes to suit. Please see Size Guide.

Super soft, natural

ORGANIC cotton jersey

 inside & outside 

to help your little one feel the wetness & develop their toilet training skills 

Hidden TPU

(

Thermoplastic polyurethane

)

waterproof layer

to keep clothes dry!

GOTS Certified & OCS 100 Certified Organic Cotton

55% Hemp/45% Organic Cotton terry inserts for

superior absorbency, antibacterial & anti-fungal qualities.

2 layers of Hemp/Organic Cotton Terry sewn into the pocket PLUS additional separate booster with 3 layers of bamboo/cotton terry

Change your boosting layers as toilet skills improve

Soft & snug waist & leg elastics to keep accidents contained!

Double pocket

openings

Ability to

increase absorbency even further with our snap in Bamboo Booster

 to give you an additional 9 layers absorbency + a stay dry suede cloth layer (only available for purchase separately)

Have you seen our other Toilet Training Accessories and matching Baby BeeHinds Products?

Training Pants – Size Guide
Size Guide – The dimensions below are the minimum & maximum stretch in leg & waist elastics. We recommend using this size guide and check the measurements on your little one for accurate sizing.
Size Guide – The dimensions below are the minimum & maximum stretch in leg & waist elastics.
               Waist (approx)    Legs              RISE (cm)         KG range
S/M        40 – 48cm            24–30cm          42                    10-15kg
M/L         43 – 52 cm          28-34cm          46.5                  14kg – 18kg
L/XL       47 – 56 cm          30-36cm           50.5                 18 – 24kg
XXL         50 – 59 cm          33-40cm          53.5                   24kg +
How to measure for Cloth Nappy & Training Pants sizing
How to Measure the Rise – The rise measurement is the distance from the front waist through the crotch to the back waistline. To measure the rise for a nappy you should measure your baby or toddler over a nappy from the top of the nappy through the crotch to the back of the nappy (to top of elastics). To measure for a nappy measure your baby, without a nappy, from just below the belly button, or where the nappy would usually sit, through to the back waistline. You can use this to measure for fitted nappies, training pants, all-in-ones or pocket nappies.

How to Measure Waist – Waist measurements are measured at the natural waistline. When a nappy description gives an Xcm to Xcm measurement, the smallest measurement is with the nappy/training pant fastened on the smallest setting and the elastic relaxed. The largest measurement is with the nappy fastened on the largest setting and the elastic lightly stretched.
How to Measure Legs – Measure diagonally from where the nappy or cover will sit on the outer thigh, through the inner thigh and back up. The settings apply as per waist measurements, smallest is with nappy or cover fastened on the smallest setting and largest on the largest setting.
Firstly, check the weight range of your baby, then check the measurements from there.
If you are still unsure about size, please give us a call on 02 4976 2729 and we are more than happy to help you out!
About Baby BeeHinds

Our factory is leading the way in providing ethically focused garment manufacture- their focus is on providing excellent quality textile garments whilst maintaining ethics in the workplace. For those who are concerned about the manufacture of textile items in Asia (in our opinion, this is a very important issue), you'll be pleased to know that Baby BeeHinds only supports the fair trade industry. We're proud to support a company who looks after their employees by offering fantastic workplace benefits and higher than average wages. Whilst no textile items can officially be certified 'FairTrade' (just not possible at present), all Baby BeeHinds items are produced via the
means
of fair trade. Our item costs are higher than what they otherwise could be....but then, so is our integrity.  Support Local. Support Ethical.


Cleaning Recommendations from Baby BeeHinds
September 18, 2017
Ok so firstly, if your washing routine is working for you & you have clean nappies with no smells, then DO NOT CHANGE A THING! … We get asked so often 'what detergent is safe to use on cloth nappies' & if you ask different brands you will probably get different answers. We have complied an updated list of both mainstream & eco friendly detergents to satisfy both camps. There is no judgement what ever camp your'e in … Our aim is to increase awareness & get bums in cloth so making the washing accessible and easy for everyone has made us re-think our recommendations over the last few months and we have looked at plenty of research, talked to lots of customers & other industry manufacturers to ensure we are really giving you the best information possible.  So whether you are on the eco journey or prefer mainstream detergents, this article isn't intended to sway you one way or another simply to give you some good options to choose from if you are starting out or need to tweak your routine. Personally for my cloth nappies, I always preferred the eco option of Rockin Green & still use it to this day for my general clothes washing too.
Recommended: Eco/Plant based Detergents
My all time favourite plant based detergent would have to be Rockin Green Classic Rock. I have used this on my nappies over 2 babies, with a either a 40 or 60 degree long, intensive wash every time & have clean white inner nappies still so I highly recommend this detergent. These recommended eco-detergents come from our personal & customer experiences using them. They are ranked in no particular order, and you can find some tips to get the best out of your eco-detergents down below. These are in our opinion the best of the Eco/plant based options and by all means there are other options available, but this is a good starting point. None of these contain optical brighteners or nasties, some contain enzymes as mentioned. 
Rockin Green Classic Rock (Powder, Vegan)
Rockin Green Hard Rock ( Formulated for Hard Water, Vegan)
Rockin Green Liquid Detergent (Vegan, contains Enzymes)
Abode Powder & Liquid (contains Enzymes)
Bositios
Eco Store Powders
Gumnut Clean Liquid Detergent
Amway SA8 (contains Enzymes)
To get the best results out of your eco/plant based detergents we recommend washing on warm/hot (max 60 degrees) every time. Start with the recommended amount of detergent on the packaging, and you may need to increase the dosage if you find it does not leave you with clean smelling nappies after each wash. Eco/plant based detergents are a fantastic way to go, you may just need to tweak the temperature or dosage amount to get it working perfectly for you.
Recommended: Main stream detergents 
Traditionally we have not recommended using main stream detergents due to the majority of them containing optical brighteners, enzymes and other chemicals however our aim is to keep it simple for new parents entering the world of cloth nappies. Some parents prefer a eco/plant based option, some prefer main stream detergents … its really up to you. As long as what ever you choose works for you & results in clean nappies then job done. Don't over think it. Just do it. Below you will find our recommended main stream detergents available easily from supermarkets. Again, use the recommended dose on the packing, warm, long cycle.
OMO (All Types)
Radiant (Powder & Liquid)
Trimat Advanced
Biozet Attack (Powder)
Surf 2 in 1
Dynamo Professional
Duo Sensitive
Norwex Ultra Power
Modere
** On a side note, previously we have recommended using detergents that don't contain enzymes or optical brighteners as some indications were that enzymes could break down natural fibres quicker and OB could be the cause of skin sensitivities. We have looked long & hard over a 12 month period at our detergent recommendations, plenty of research & we are confident in recommending main stream detergents that contain both enzymes & OBs. Enzymes are designed to help remove stains, eliminate fabric piling & increase whiteness & OBs are designed to make things whiter & brighter. … Hence you will see some options in the above eco/plant based list containing enzymes. In the eco/plant based list these are typically plant based enzymes. The majority of main stream detergents will contain enzymes & OBs, however they are 100% safe to use on your babies garments. Enzymes are designed to help remove stains, eliminate fabric piling & increase whiteness. Again, if the product you are using is working for you then don't change a thing!

Key things to avoid in detergents: Home-made detergents, Fabric Softener & Chlorine Based Bleach product. Don't. Go. There. Fabric softener can build up quickly on your nappy fabrics making absorption difficult & chlorine based bleach products can do serious damage to your PUL fabrics & elastics. We are always happy to assist with any trouble shooting so don't hesitate to get in touch with HQ info@babybeehinds.com.au